Summer activities
in Val di Fiemme
Hotel Alpino is the right place to start from, to explore the Trentino Dolomites
mountain tops, that have been declared World Heritage. You can take part
in organized tours, from the more challenging trekking to walks along the sweeter
slopes near the hotel, take a ride along the bike path in the valley, ride in the woods
on a mountain bike and have fun with rafting on the river Avisio.
Sustainable transport in the Valley
To all our guests we give the FiemmE-Motion Guest Card, a special residence card that allows to enjoy the ski-lifts without extra charge. Thanks to ski-lifts, also equipped with bicycle and mountain bike carriage, the peaks of the Dolomites and the highest views are easily accessible to all, including children. In addition, the sustainable mobility in the valley is guaranteed by free bus, trains and shuttles services.
In touch with nature
During your summer holidays in Trentino immerse yourself in the rhythms and flavors of the past spending a day among the pastures with the excursion "Mountain Dairies", or venturing through the woods in silent walks to mushroom hunting.
Summer activities
Trentino & FiemmE-motion Guest Card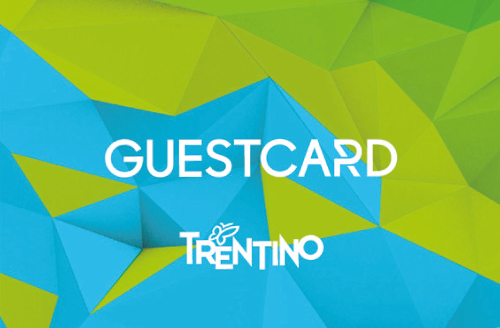 The Fiemme Guest Card is a multi-service card that offers a carefree holiday in the Trentino Dolomites!
Upon your arrival, on minimum stays of two nights, receive, with no additional cost, the Fiemme Guest Card to experience a wonderful holiday in the Dolomites!
Instead of the usual tourist tax a "guest card" which gives you more!
The Fiemme-motion Guest Card will allow you to enjoy:
Access to the summer lifts, for the length of your stay for just € 10
A weekly program with a wide choice of excursions and activities in nature to discover thematic paths and fantasy parks
Free mobility on buses and shuttles
Admission to the museums and Natural Parks of Val di Fiemme
Trekking with mountain guides, experts, botanists and nature guides, guided visits with tasting at the Wine Cellars of Val di Cembra
Discounts for rafting, biking, e-biking, swimming-pools, wellness centres, , benefits and discounts in more than 100 stores, malgas, mountain huts, restaurants, "0" km products
Excursions for families, such as:
Mountain Dairies
A day in the pristine meadows of the valley with the organized excursions "Mountain Dairies", where you can have fun with the alpine experience, watch the handcrafting of milk and taste the genuine products of malgaro (the owner of a malga).
SPECTACULAR TALES
Fairy tales and legends of our mountains interpreted almost every day by an acting company, led by Alessandro Arici, between Dolomites peaks and walls of ancient buildings.
FARM ANIMALS
Children not only have the opportunity to be in contact with the farm animals but they can also experience to milk a cow, make butter or become small beekeepers for a day.